The Wisconsin Dental Association, WDA, was established in 1870 with the idea to advance the interests of WDA members and the dental profession by promoting professional excellence and quality oral health care for the public. One of the ways the WDA supports quality oral health care for the public is by providing Wisconsin's yearly Mission of Mercy event.
What is Mission of Mercy?
Mission of Mercy was created in 2000 In Virginia by the America's Dentists Care Foundation as a way to provide care to anyone who has difficulty getting to a dentist due to lack of insurance or not having enough money for regular visits to a dentist.
A successful Mission of Mercy (MOM) event focuses on:
Providing free, critical dental care with a high priority on treating patients in pain and with infections
Raising public awareness of the barriers to dental care faced by low income adults and children
Challenging patients, policymakers and dental professionals to work together to make viable and bipartisan "Healthy Choices" that will improve Wisconsin resident's oral health
Today, MOM events can be found nationwide. The WDA and WDA Foundation Mission of Mercy dental program has in excess of $5.8 million in donated services and treatment through more than 11,300 patient visits since 2009.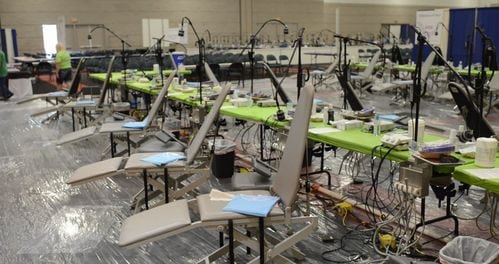 Where Can You Find a Mission of Mercy Event?
Mission of Mercy is not located at one specific venue in one "prime" city. Because it is meant to be available to anyone with dental needs, the WDA conducts the event in different cities each year, in different venues.
The city and venue are carefully selected based on approximately 20 different site-location criteria including:
A strong local dental society with dentists willing to help plan and volunteer
Local community involvement (i.e. oral health coalition, legislators, etc) to help with recruiting volunteers and fundraising (dollars and in-kind donations)
A venue that can house a dental treatment project the size of MOM, along with sufficient local hotels to room volunteers, as many volunteers travel to the community for the event.
This year, the Mission of Mercy was located at the KI Center in Green Bay, WI on June 27-28th. Last year, it was located in Lake Geneva, WI, and the year before that right here at the Alliant Energy Center in Madison, WI. Mission of Mercy has been moving across Wisconsin providing dental health treatments for 6 years now, caring for over 11,000 patients and providing over $5,822,662 in care.
What Exactly Does Mission of Mercy Do?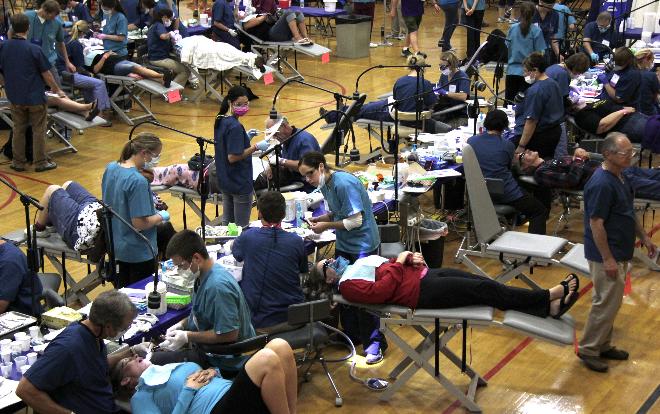 Mission of Mercy provides basic and certain specialty dental services and treatments to those who might otherwise not be able to acquire them.
This year, Mission of Mercy saw 1,925 patients. 8,136 procedures were done including 1,889 fillings, 1,485 extractions, 792 cleanings, 769 x-rays, 480 fluoride varnish, 149 full and partial dentures, 93 sealants, 43 root canals and therapeutic pulpotomies and 17 alveoplasty (surgical procedure used to smooth out the jawbone). That is a lot of work done and a lot of people helped.
But Mission of Mercy isn't just about providing dental services and treatments, it's also about education. Education is the most cost effective way to reduce dental disease. This year, the Mission of Mercy required all patients seeking help to visit an enhanced patient education area. Staffed with students and other professionals, this area was dedicated to educating and encouraging patients to make changes in their lives to improve their oral health. The area had three components; first the patients are asked to fill out a questionnaire asking about at-risk behaviors, second there are posters with educators providing information about each behavior and finally there was a tutorial on proper brushing and flossing techniques and why both are so important.
In an effort to get patients, policymakers and dental professionals to work together for the improvement of Wisconsin residents' oral health, Mission of Mercy invited local, state and national policymakers to tour the MOM event in Lake Geneva last year. By extending this invitation, it brought legislators and policymakers face to face with Wisconsin's dental access problem. Over a dozen public officials and staff members not only visited and toured the event, but also rolled up their sleeves and volunteered.
Speaking of Volunteers:
Over 900 dental professionals and staff members volunteer each year for this event. Dentists, pediatric dentists, dental assistants, hygienists, endodontists, oral surgeons, office coordinators for patient registration and check out, pharmacists, pharmacy techs, pharmacy and dental students, people to help set up and tear down the stations, people to coordinate lines and waiting areas and much, much more.
Last year, at the Lake Geneva event, our own Dr. Maggie Smith and her dental assistant Jullie volunteered their services. This year, dental hygienists Katy and Judy volunteered! We at Affiliated Dentists are very proud that our wonderful doctors, assistants and hygienists have such caring hearts to volunteer for such a hectic but important event.
The Mission of Mercy is open for anyone who is in need of dental services and treatments. Age and income are not factors of who is treated and who is not. If someone has an emergency (severe pain, swelling, eg.) they will be seen first, of course. The doors open at 5:30am each day, Friday and Saturday and patients are seen on a first-come first-served basis with approximately 1,000 people will be seen each day.
For more information on WDA Mission of Mercy check out their website:
http://www.wda.org/wda-foundation
And be on the look out for their next event on June 12-13 2015.